It's nearly the end of the year, I remember well the start of 2013 and just how much I had on my painting list. It was big and daunting...I made myself promise I'd get everything off it by the end of the year...well it truth I'm not going to manage that, but in these remaining weeks I'm going to give it a go.
It's about time the Henshel got a slap of paint on it...so here it is.
I did a bit of googling around first and this scheme really appealed to me, it looks very Italian campaign, I hope it is but I have no real idea. I went with keeping the paint job simple. Very little weathering, which I normally over do on my tanks, I wanted this nice and sharp for the table top. The dots were a pain to do, I think I made my mixture too runny, and ended up with spiders all over it. That's fine as I've learned the benefits of undoing my last move. So in this case I ringed the green spot with the khaki colour...sweet.
The decals are little too new/bright, but I'm finding Vallejo Decal Fix, does nothing and I need to try out some MicroSol as I hear it's really good.
Like all planes in FOW games, they're either awesome sauce, or suck. As such I only use it every now and then, when I feel sorry for it, but that threat of AT15 against side armour is a fantastic psychological threat and should ensure enemy tank formations spread out, for my FJs its only available in Grey Wolf AFAIK, so will generally be facing Russian hordes...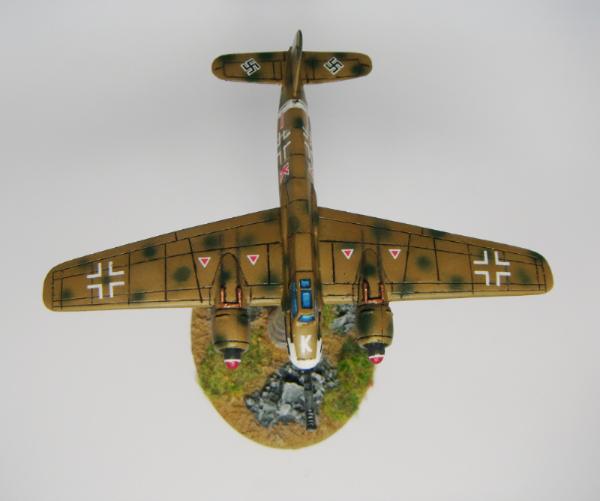 Well thanks for reading and wish me luck in getting that painting list down before 2014.